What is HR Autopilot?
Human Resources Autopilot (HR Autopilot) is a software to automate repetitive and time-consuming tasks, including employee on-boarding management, payroll, timekeeping, and employee benefits. This makes HR employees hassle-free while performing their tasks and to focus on more strategic tasks that are more valuable to the company. It also improves efficiency and security while reducing the human error. HR autopilot has emerged because of the time and amount of paperwork involved in everyday processes. When HR professionals are spending more time managing than using their valuable skills in other areas of the business, then it's time to find a new way of working. However, switching from a manual processes to HR autopilot requires a certain level of skills and training in using the technology to be effective. But the benefits of HR autopilot for all your employees far outweigh the time, energy, and money you'll invest in getting there.

Benefits of HR autopilot Increased efficiency
HR in large part relies upon on document-driven processes. When completed manually, this could be time-consuming, repetitive, and extremely inefficient. Paperwork can get "stuck" in a queue or on one person's table, and mistakes are common. What's more, requiring people to come into the workplace or fax over signed forms is redundant. HR autopilot digitizes all of the above, increasing productivity and efficiency across the business. The organization can then focus more on ensuring that all HR staff is people's advocate. You can focus on culture building, people's practices, being a workplace champion and a communications expert.
Actionable insights
HR autopilot enables you to track, collect and analyze data of all kinds. This allows you to spot patterns and generate reports on your findings. You can then use these insights to improve processes, fix errors, and do more of what works across the organization.
Reduced errors
Manually filling out payslips, timesheets and leave checks paves the way for human error. In addition, a machine can perform these tasks faster and reduce the error rate.
Improved communication and collaboration
HR autopilot provides a clear overview of all processes and stages involved. This helps everyone understand each other's responsibilities, which improves communication and teamwork.
Reducing Paperwork Costs
Paperwork requires documents to be printed and then filed somewhere and kept as a record. HR autopilot reduces the costs associated with this. It minimizes your storage needs and ensures recordings are easy to find at the click of a button.
Positive experience for candidates and employees
When HR employees are drowning in admin tasks, they often don't have time or forget to check in with new job candidates. This creates a negative hiring experience, regardless of whether they ultimately get hired or not. HR autopilot means HR will have more time to get back to candidates and improve their overall experience. Employees also benefit from self-service. For example, they get their vacation requests and expense reports approved faster, and they can track the performance of their employees.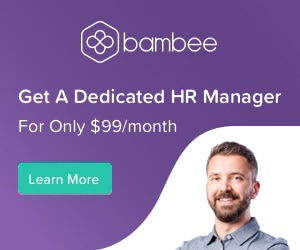 What should you look for in an HR autopilot tool?
Budget
Ease of Integration
Scaling Options
Bambee's HR Autopilot With Bambee's HR Autopilot, you can identify HR gaps and ensure all core protection policies are up-to-date, signed by your employees and ratified semi-annually. This helps ensure your business is protected. Additionally, federal and state laws require certain company records to be retained for a specific period of time, and with Bambee you never have to guess who signed what or where your important HR documents are located.

For your people's culture, Bambee's HR Autopilot creates a safe place for your people to speak and share, and alerts you to potential issues. It's also a great way for your employees to express their gratitude anonymously or publicly. And in addition, Bambee offers training to keep your employees compliant and productive.

The best news is that this service doesn't require a huge budget. Thanks to the fixed price, you can easily find the plan that suits you best. There are no contracts either. Put simply, by keeping more than 10,000 US companies in HR compliance year-round, Bambee's HR Autopilot makes it easy for you to grow and scale your business while keeping your employees happy. So join Bambee and put your HR department on autopilot today.