Email campaigns are vital for generating leads, pleasing customers, and nurturing brand ambassadors. With so much on the line, you can't afford to let your email marketing goals fall by the wayside.
The good news is, platforms like Omnisend make it easy to accomplish email creation, A/B testing, and segmentation at scale. Omnisend empowers ecommerce brands to automate the vast majority of their email marketing tasks, providing templated and customizable workflows for one-off, segmented, or long-term email campaigns. Users can pick between one of three price plans to meet their current email volume, then scale up however they need.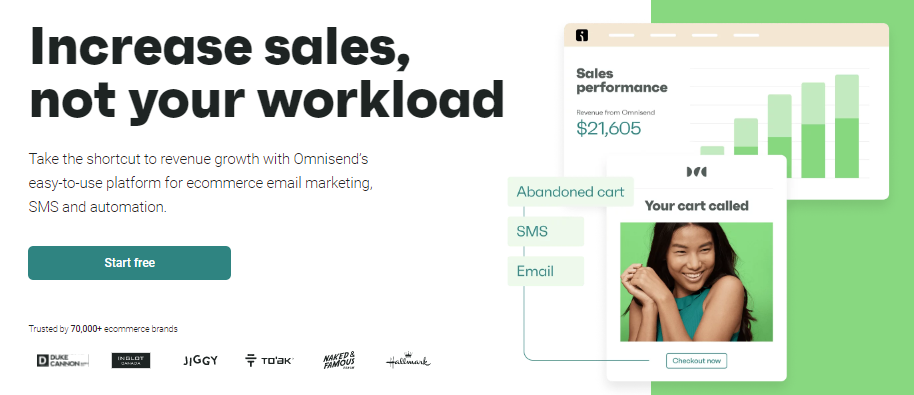 Omnisend's ecommerce email marketing platform is designed to save time, reduce manual labor, and ultimately increase your ROI. From code-free content creation to automatically adding products from your store to your emails, there are a number of ways to make your email marketing more efficient. And with features like advanced A/B testing and discount code automation, you can easily expand your current marketing tactics with a host of new tools.
Email creation tools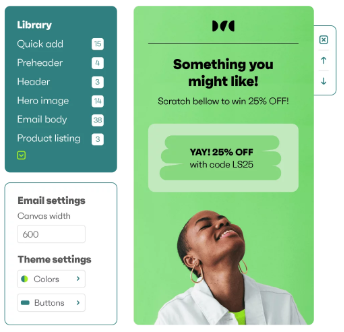 To get started with Omnisend, simply create an account and connect your store. The free plan is free forever, meaning you can use the features instantly and with no expiration time. From there, you'll be able to migrate your contact lists and build out your first email campaign.
Unlike some other email marketing tools, Omnisend's email marketing platform is entirely code-free. Every element is drag and drop, which allows you to build or structure your content exactly the way you want. Branding colors, designs, and logos can be customized to any specifications and saved for different use cases, ensuring that all messages look professional, on-brand, and consistent.
Omnisend's email template library has a massive selection of pre-built messages, offering suggestions based on holidays, seasons, or specific events. Each design was built to complement a variety of voices, tones, and styles, with a range from classy and clean to casual and fun. You can use these templates right out of the box, or customize your favorites for future use.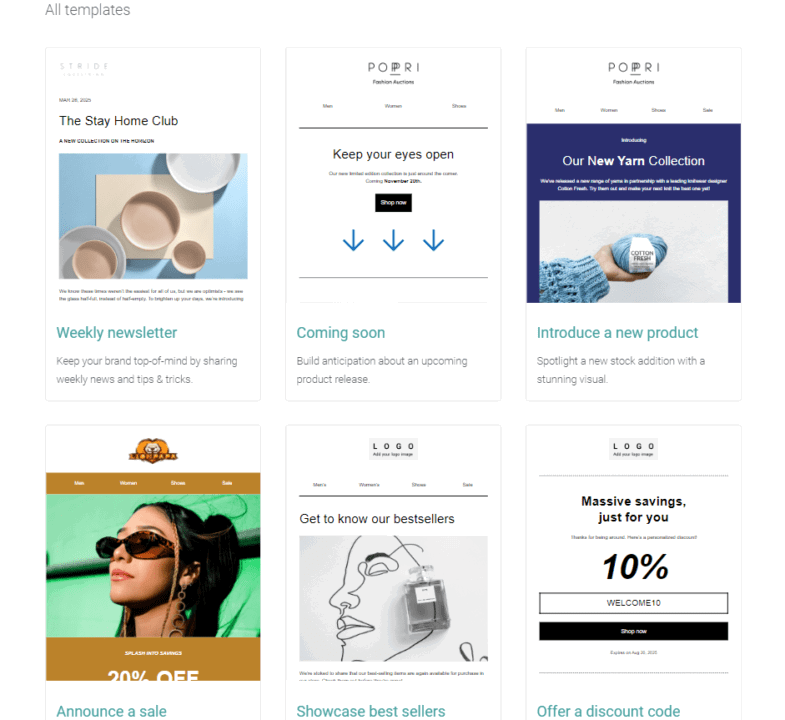 Omnisend's content editor lets you import brand assets automatically, which saves hours of time and effort. You can immediately upload colors, logos, fonts, and social links to your emails, with the option to change certain elements between templates. Save what you have as a campaign template, or send your message as a one-off to specific audience segments.
It's important to note that Omnisend allows you to duplicate email templates and not just the email itself. Unlike platforms that force you to duplicate and edit past campaigns to maintain the visual consistency, Omnisend allows you to re-use the template, so you only have to create it once and then use it forever. It also means you can have different templates for different types of campaign, and they'll always be at your fingertips.
Omnisend's email editing features are very accessible, even to new email marketers. The email can be completely customized, from the multi-column layouts to the Google Fonts to the hero images. The inline editing function enables you to make changes on the fly, while autosave grants additional peace of mind that progress won't be lost in the event of an outage. You can even hide specific content on certain devices (think desktop versus mobile), which makes the creation of mobile and web-friendly emails even easier.
There are a few other features to explore:
Regardless of your niche or industry, you can use Omnisend to create, submit, and track email marketing campaigns automatically—even while you sleep.
Email marketing automations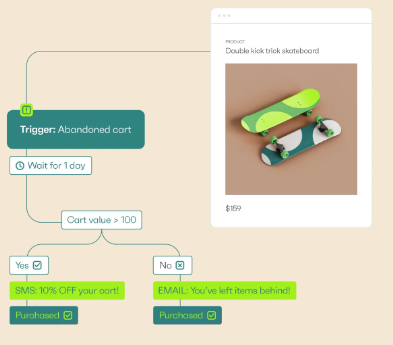 Once you have completed your email campaign, you can integrate it with one of Omnisend's automation workflows. These are designed to take a completed campaign and turn it into an automated series of messages, triggered by different events or customer behavior.
Beginning with pre-built workflows, Omnisend rolls all your sales channels into one place for better continuity and more consistent messaging. SMS and web push channels are also supported, but you're not required to have these to create automated email campaigns.
Email automations in Omnisend are extremely easy to build and can be scheduled to send only on certain triggers or preset values, meaning you don't need to manually press buttons or schedule drip campaigns all at the same time. Omnisend handles most of the heavy lifting, and even has pre-built workflows that you can use, so you don't need to create it from scratch.
Omnisend's automation workflows let you send emails based on specific triggers, buyers, or subscribers. Some of the pre-built workflows include:
There are many other automations included in the Omnisend automations library. They're all filterable by type, goal, and channel, which can help you pick the right workflow for the right email marketing campaign. Even after they've been selected, these workflows can be customized to meet specific campaign needs, customers, or goals.
Automate your email marketing with Omnisend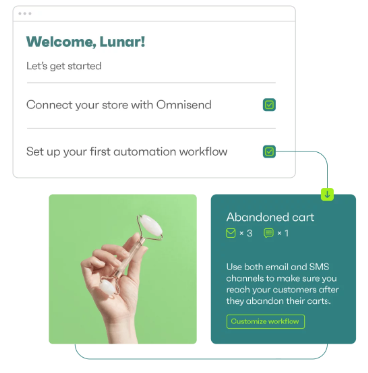 Omnisend's email marketing tools can create a flywheel of ROI that continuously offers value for your business. Messages can be sent automatically on pre-built or customized triggers, which gives you more time for other tasks. If you're newer to email marketing, you can start small with fully templated emails and just one or two active campaigns. When you're ready, spread your wings and try something new with dynamic product blocks, or try out a discount code in a targeted A/B test.
Automate your email marketing campaigns with Omnisend today. Start the Free plan at any time—no credit card required.