Writecream is an online writing assistant that helps you create cold emails, voiceovers, podcasts, icebreakers, sales pitches, and blog articles with the power of AI. It helps you create marketing materials, sales emails and online content in seconds.
Writecream allows you to create custom icebreakers that will help you increase your sales. You can develop a unique introduction for your candidates based on their job, education, and experience, and include that introduction at the top of your email or message. All you have to do is insert the URL of your prospect's website. After that, Writecream's AI will scan it and come up with a convincing icebreaker that will prompt them to react and improve sales. Enter your prospect's LinkedIn profile URL and Writecream will rate their profile and send them a personalized message. Enter an article's URL and the platform will analyze the content and the author's point of view, and then write a unique message that will catch their attention. Plus, you can create long-form content like blog posts and video scripts in minutes.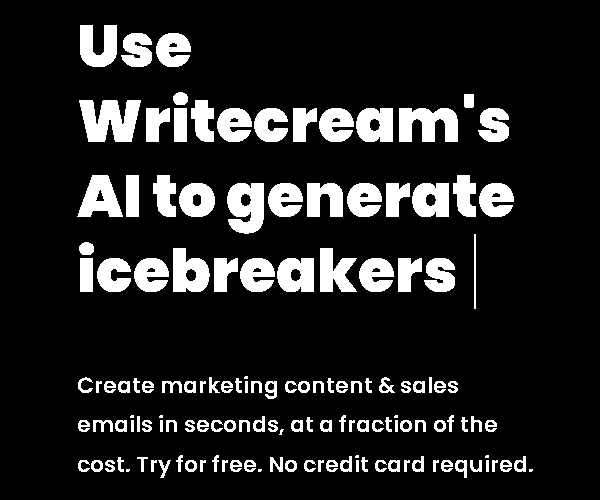 Features:
Lead Facilitation
Customer-facing Chatbot-- Provides a chatbot to initiate and conduct initial conversations with leads and prospects.
Lead Follow-up -- Automatically calculates which leads are most likely to become customers.
Lead Qualification -- Automatically contact all leads.
Organization
Opportunity and Pipeline Management -- Manage sales opportunities through their lifecycle from lead to order. Track stages, values, and probabilities of close. Manage sales pipelines by individual sales rep, team, region, and company-wide.
Integrations/APIs -- Application Programming Interface - Specification for how the application communicates with other software. API's typically enable integration of data, logic, objects, etc. with other software applications.
Data Entry -- Automates the entry of collected.
Performance Analysis
Coaching -- Provides real-time training for sales reps.
Sales Analysis
ROI Forecasting -- Measure ROI and use data to predict the profitability of future projects.
Pricing:
Free Forever - $0/mo
Unlimited (limited offer) - $29/mo
Standard - $49/mo
Extended - $69/mo