Time Doctor is a time tracking and productivity software that tracks how companies use their time to deliver analytics to improve performance. With metrics for all workday activity, organizations can make data-driven decisions and have the accountability necessary for flexible work. Time Doctor is used by enterprises and SMBs, including organizations with outsourced or offshore teams, or a remote or hybrid work model. We integrate with 60+ tools to easily analyze productivity all in one place.
Features:
Time Tracking: Monitor time spent working and breaks.
Screenshots: Automated screenshots help tracking activity.
Clients Feature: Track time to clients and projects.
Powerful Reports: Detailed reports, timesheets and more.
Web & App Usage: See which websites and apps are being used.
Payroll: Process payroll and billing automatically
All Devices: Windows, Mac, Linux, Android, iPhone, Chrome Apps.
Integrations: Integrations with all leading project management tools.
Time Use Alerts: Alerts remind you to stay off timewasters.
Off Track Reminders: Nudges when visiting non-work related sites.
Attendance Tracking: Track attendance and get alerts for employees who are late.
Track Breaks: Track breaks and time spent away from the computer.
Benefits:
Accountability
Productivity
Profitability
Empower Employees
Why TimeDoctor?
Enterprise-level security and compliance
GDPR & HIPAA Compliance
24-Hour Sales and Customer Service
50+ Integrations with Enterprise Tools
ISO 27001-2013 Certification
Multilingual Support Options
Customer Success Representatives
Open API Access
Custom User Roles and Permission Settings
Product Analytics for Data-Driven Decisions
Onboarding and Change Management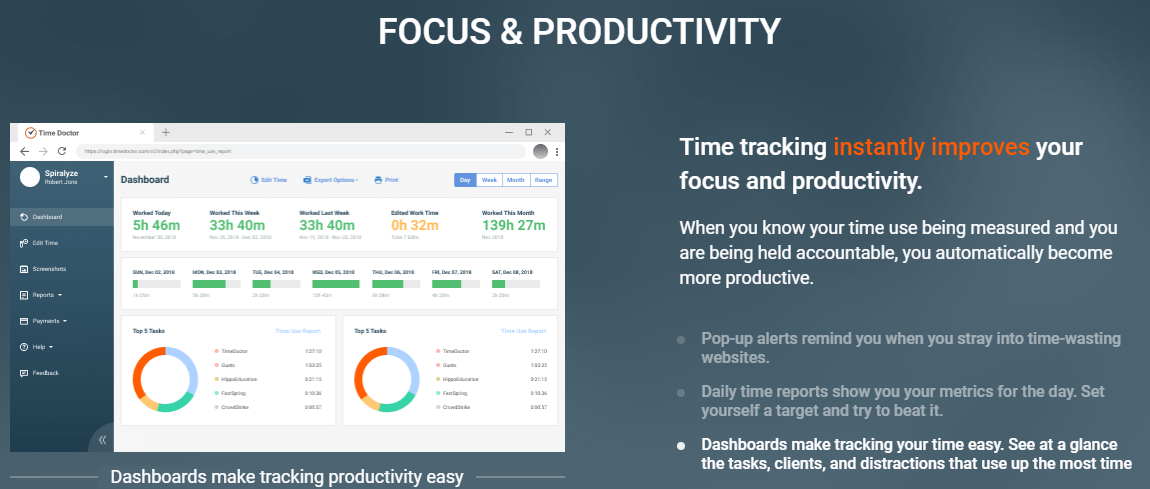 Pricing:
Basic --$7/user/month
Standard (popular)-- $10/user/month
Premium -- $20/user/month