Hire your own Instagram-Manager and get real Followers and Likes from your target group.
Social Boost is an incentivization platform that will help you grow your email lists, followers, referrals, leads, viewers, sales and engagement.
Social Boost provides Instagram Marketing Services to manage and grow your account. We are doing this by:
Custom Targeting: Define your exact target audience using Age, gender, similar accounts, geolocation and interests
Handmade Growth: Engage with accounts matching target audience through follows & targeted likes.
Powerful Strategy: Target accounts will receive notification from you and view your profile. If they like they will follow you and engage with your content.
Why Social Boost?
Real Followers
Advanced Optimization
Works in 2021
Analytics & Reports
Safe & Secure
Handmade Growth
Real Instagram Marketers
24/7 Support
Solutions:
Follow & Unfollow: Grow your Instagram following with real followers by interacting with profiles in your target audiences.
Increase Engagement: Maximise Engagement and Receive real likes & comments on your Instagram Posts.
Security: We keep your accounts safe by abiding to Instagram's Terms of Service.
Professional Account Management: Our Team of Instagram Growth Experts will manage your account using real marketing strategies to increase followers.
Features:
Follow/Unfollow
Interest Targeting
Competitor Targeting
Targeting Optimization
Geotargeting
Gender Targeting
Likes Sequences
Reporting
Monthly Growth Reports
Advanced Targeting Optimization
Support
24/7 Live Chat
Welcome Call
Account Management
Monthly Performance Review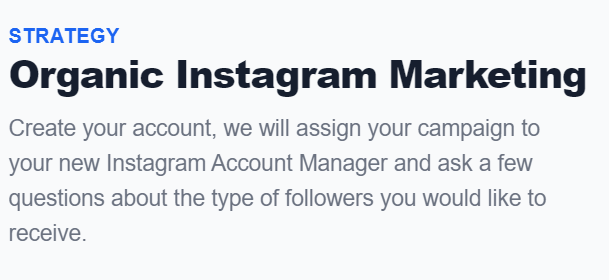 Pricing Plan:
Basic -- $59/month
Premium -- $99/month
Turbocharged -- $249/month