PromoRepublic is a social media marketing solution with content distribution workflows for small businesses, agencies, and multi-location brands. The social media marketing suite includes intelligent products to distribute editable content, schedule it with AI, manage multiple clients or locations, run local ads, and stay on top of the results.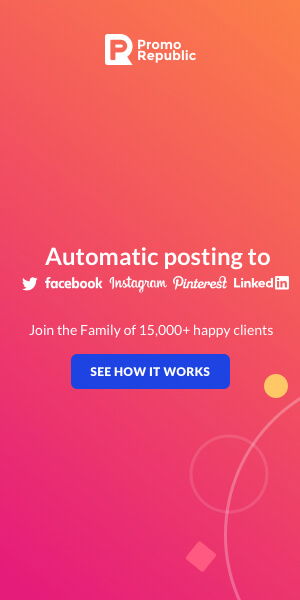 Platform:
Social Media Calendar has all the pieces of your social media posting fall in place.
Content Organizer design and store editable social media content that fits your brand.
Work Coordinator enables a workflow designed for your business.
Reporting Provider gets a complete overview of your social media performance.
Local Manager empowers franchisees to spread your brand message on social.
Ads Manager boosts posts and run campaigns to grow sales.
White Label --get your own branded tool without efforts
Content Services --We'll create pictures and GIFs that includes engaging, promotional, motivational and educational posts for your social media posts.
Solutions:
Enterprises:
For Enterprises, PromoRepublic has below listed features:
Asset Management to secure brand consistency across all market
Social Media Management to amplify your brand's voice on social media
Reputation Management to control your brand's reputation across your locations
Partner Enablement to empower partners to dazzle while representing your brand
Agencies:
For Agencies, PromoRepublic has below feature that includes:
Social Media Calendar --Organize posting to multiple clients' pages efficiently
Content Organizer--Create and store content for clients
Work Coordinator--Smooth content creation & scheduling workflow
Inbox Manager--Organize all incoming messages across your social profiles
Reporting Provider --Report on social media performance of clients's pages
Ads Manager--Run ads to promote clients' pages
Small Businesses:
Automate social media marketing for your small business. We've thousands of ready-to-use content relevant for your industry, schedule in advance, and stay involved in running your business.
Pricing Plans:
Standard -- Best for Small Businesses -- $49/Month
Professional --Best for marketing agencies -- $99/month
Enterprise -- Best for multi-location, franchise, and MLMs --Custom pricing