Phototheca (by Lunarship) is all about organizing massive amounts of photos and videos. The smallest part that Phototheca works with, the atom of the program so to speak, is a single image or video. These atoms, images and videos can be grouped together and arranged in hierarchical structures. Phototheca offers a few ways to compose a group of images; they are all slightly different and all have their own purpose and characteristics.
It is important to note that an image always resides in a container (an event or album). It is not possible to have images without a main group in Phototheca.
The group types available for organizing images are: Event, Album, and Folder.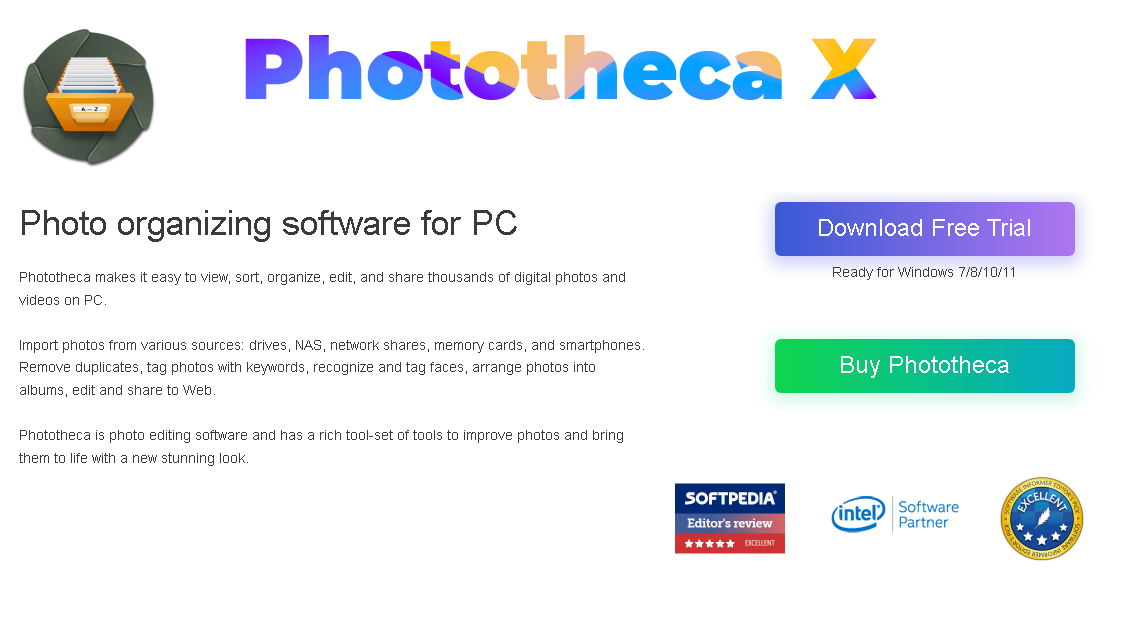 Features:
Import with Intelligence
Local Drives
SD Cards
NAS and shares
iPhone and iPad
RAW files
Video files
Auto-update
Track Folders
Share to everywhere
Flickr
Google Photos
SmugMug
Twitter
Photo tagging and metadata. EXIF, IPTC, XMP
Captions and Metadata
Tags and Keywords
Photo Descriptions
Fix time-stamps
Photo browsing and instant search
Search
Thumbnails
Calendar
Timeline
Photo organizing capabilities
Events
Albums
Smart Albums
Live Albums
Viewing capabilities
Thumbnails size
Fullscreen mode
Dual monitors setup
Slideshow
Extra features
Duplicates removal
Safe-boxes
Export photos
Email photos
Pricing:
Pro -- $49.95 one time payment
Premium -- $64.95 one time payment
Phototheca X -- $55/year