Packhelp is an online marketplace for custom branded packaging. We provide innovative packaging solutions for e-commerce brands, retailers, agencies and enterprises.
Packhelp for small and medium business
The smallest orders available with Packhelp start from 30 pieces per order, with the short production time of 14 days. Our range of products includes mailer boxes, product boxes, biodegradable mailers, kraft tapes and many more. If you are a small business owner, you can create your packaging on your own - thanks to Packhelp online editor. It's a free-to-use tool that makes the designing process seamless and easy.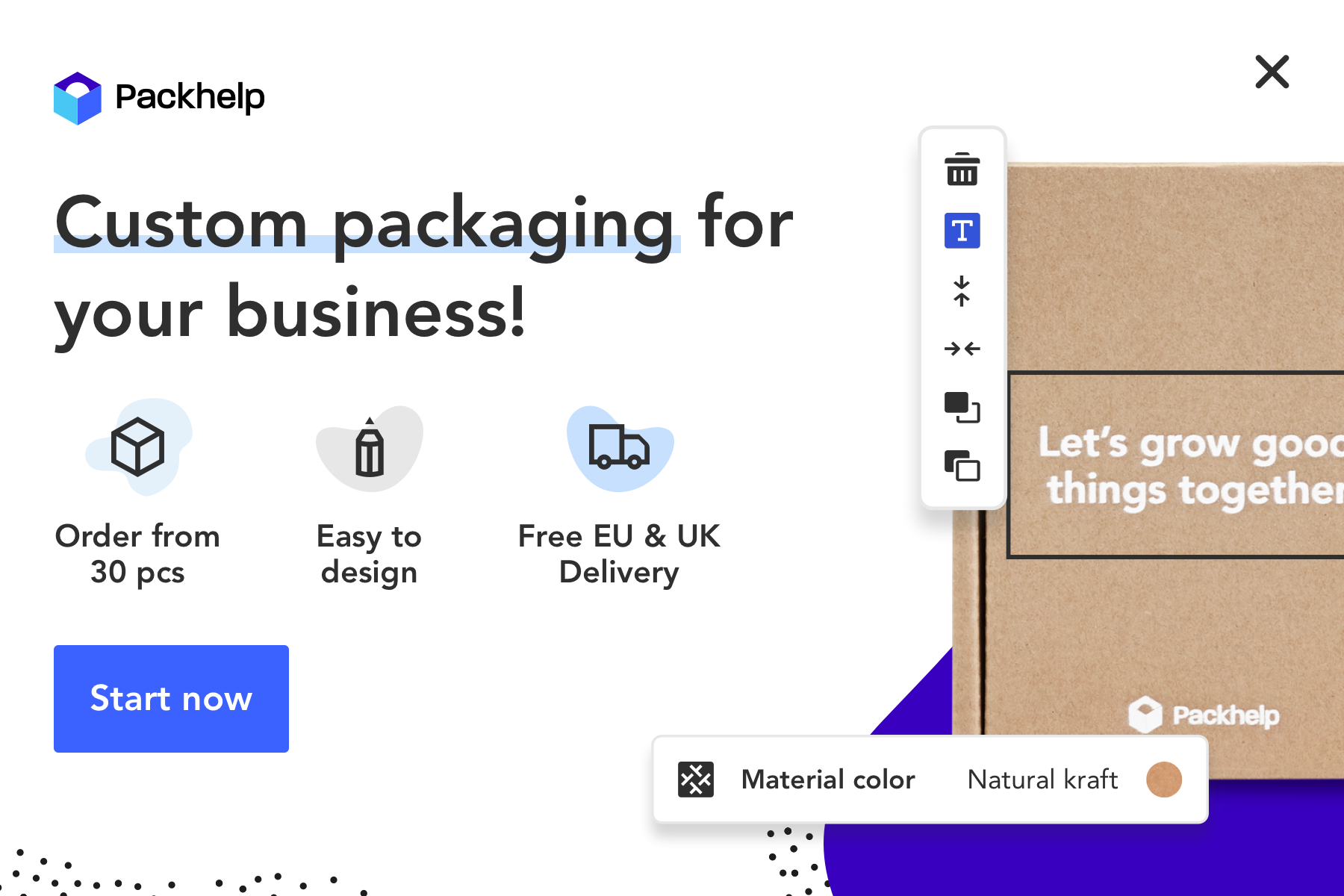 Packhelp for enterprise and wholesale orders
We provide service dedicated to enterprise clients and companies with more complex packaging needs. With Packhelp you can create an entirely new product for your packaging supply chain or improve your current solution. The range of services available within Packhelp includes:
• Packaging production, with long-term dedication and split payments
• Packaging engineering
• Packaging prototyping & visualizing
• Optimizing entire packaging supply chain - from value engineering to quality assurance.
Products:
Mailer Boxes: These corrugated cardboard mailer boxes play the role of primary, secondary or delivery packaging perfectly.
Product Boxes: Print on the inside and out of these light cardstock product boxes to really stand out on retail store shelves
Setup Boxes: These boxes have almost endless customisation options and are perfect for adding an elegant and luxurious feel to your packaging
Retail Boxes: Retail boxes are a highly-customisable packaging solution that looks fantastic on shelves in traditional retail stores
Shipping Boxes: Thick and durable, these boxes add a little class for sending bulk goods between facilities.
Bags: Custom bags are great for both retail and shipping. A mailer bag is a great, eco-friendly way to use branded packaging, while printed paper bags add a touch of class for your store.
Mailing Bags: Lightweight and easy to store, our custom printed mailing bags are a unique and eco-friendly packaging alternative.
Carrier Bags: Take your branding out of the store and onto the street with a custom printed carrier bags.
Tubes: Artwork, socks, dry goods and small accessories, custom tubes are a unique way to package your goods.
Packing Papers: Add extra security and a little elegance to your unboxing experience with custom packing papers.
Envelopes: Send your documents, advertising material or magazines in class with a custom envelope.
Printed Tape: Pay closer attention to the finest details by sealing your box with some custom printed tape.
Bundles: Our bundles help you keep your packaging costs down while still getting the benefits of custom branded packaging.