Freshchat is a modern messaging software built for sales and customer teams to talk to prospects and customers on the website, mobile app, or social pages. Freshchat helps businesses and its teams focus on a continuous and context-driven messaging experience. With features like campaigns, sales bot, integrated self-service, and intelligent message routing, expectations are set and met, and responses to visitors' questions are smarter and faster.
Features:
Messaging
Messaging Channels
Chatbots
Web Widget
Campaigns
Multilingual Support
Agent Productivity
Integrations
Team Inbox
Canned Response
Live Translate
Bulk Action
Visitor Intel
Manage Conversations
IntelliAssign
Assignment Rules
Roles and permissions
APIs
Powerful Insights
Real-time Dashboard
Team member report
Performance reports
Custom Reports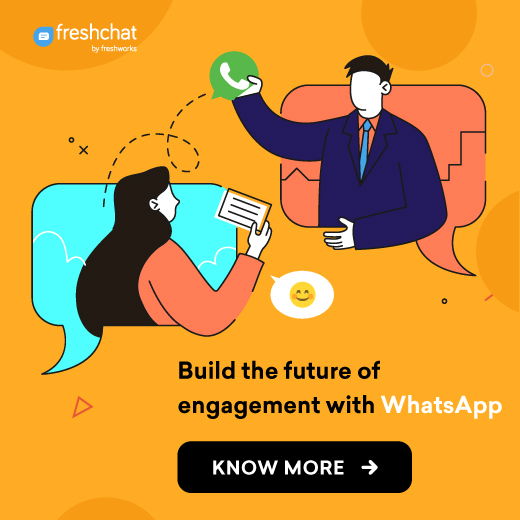 Solutions:
Zero Contact Resolution -- to reduce customer friction
Provide Convenient Customer Service -- Make it easy for customers to reach you
Move from costly channels -- Make Customer Service a Profit Center
Integrations:
Featured:
Teamviewer
Advanced Automations
Collections:
Remote Desktop Support
Top Apps for E-commerce
Agent Superpowers
Trending:
Stripe by ChargeDesk
Upscope Screensharing
Calendly
Freshdesk Contact Import
Support Article Search
Advanced Automations
Latest:
Prisme.ai
Voice Recorder
Salesforce 2
MessageMedia for Freshchat
Webhook Extender
Enterprise Bot-Chatbot
Telegram for Freshchat
Download Transcript
Preview Web Messenger
Popular:
Teamviewer
Hubspot CRM
Stripe by ChargeDesk
Salesforce App
WooCommerce by ChargeDesk
Upscope Screensharing
Pipedrive
Calendly for Freshchat
Klaviyo
Pricing:
Messaging: Bots and messaging for all businesses - Small, medium, and Enterprise
Sprout -- For getting started -- Free
Blossom -- Perfect for small teams -- INR. 999
Garden -- Ideal for growing teams -- INR. 1,999
Estate -- Best Value for large teams -- INR. 3,299
Forest -- Made for enterprise --INR. 4,999
Omnichannel: Leverage Freshdesk & Freshcaller features with Freshchat to offer seamless support across channels from one place.
Estate Omnichannel -- For stellar performance -- INR.5,699
Forest Omnichannel -- Perfect for enterprise -- INR. 9,999