Castanet - Create LinkedIn Outreach Sequences based on Sales Navigator Searches, Target Profiles that interact with (Like, Comment, Share) any LinkedIn post, Create Messaging Campaigns for your Followers, and Efficiently build a LinkedIn Network for ANY Sales Vertical.
Traditional LinkedIn outreach is slow and time-intensive. CASTANET's sophisticated toolkit unlocks new revenue streams for agencies, and takes businesses to the next level.
Castanet cultivates leads in the background, leaving you free to close deals.
Identify Your Ideal Lead
Craft Your Message
Watch Your Pipeline Fill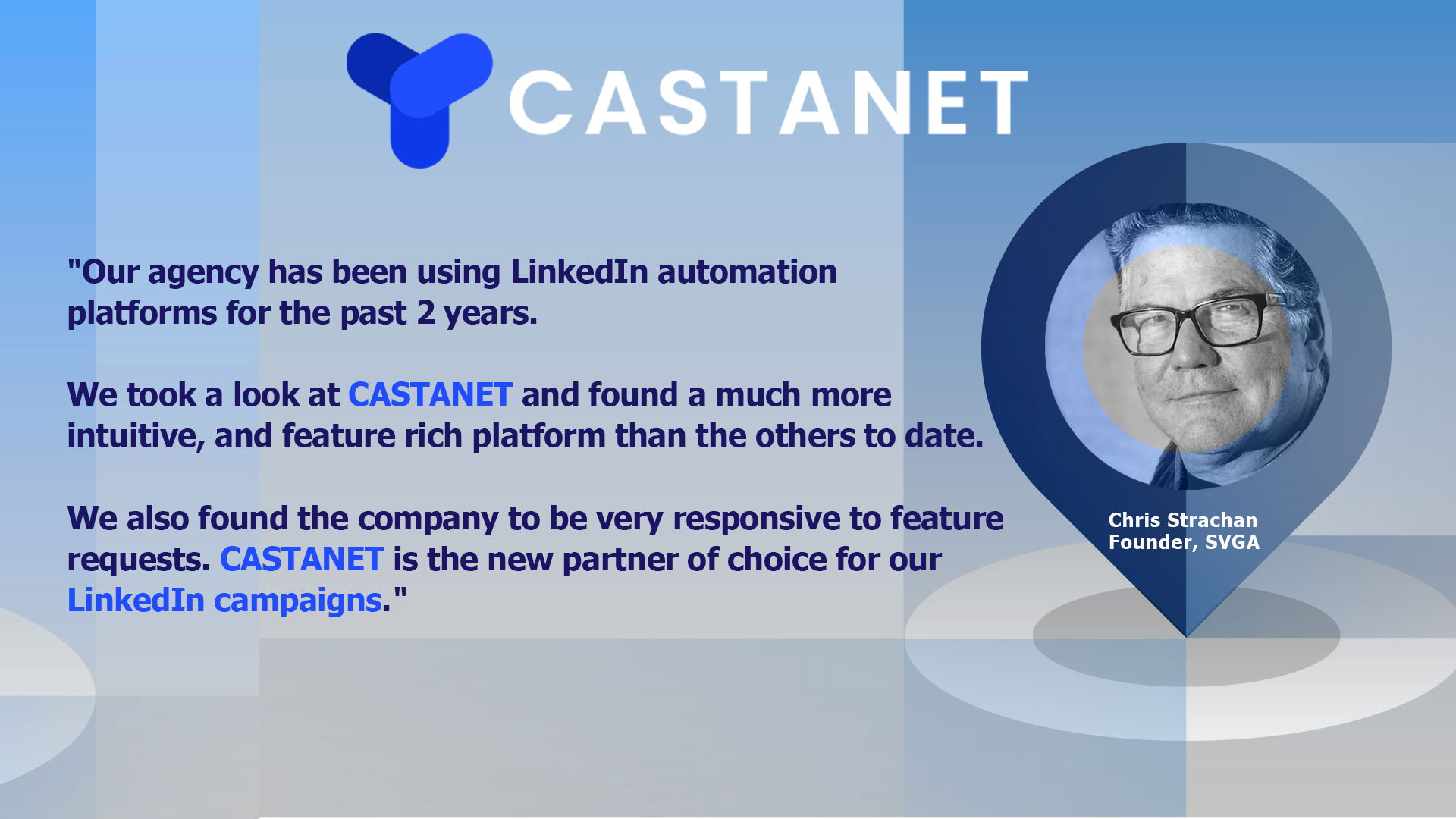 How It Works?
Create lists from sales navigator searches
Create lists from post interaction
Create action sequences
Get priceless insights
Features:
Dedicated IP Address
Each profile gets its own IP address to safely connect you to LinkedIn.
Randomized Delays between actions
Our virtual assistants perform LinkedIn actions following normal user patterns.
Cloud-based
You don't even have to be logged in — we run 24/7 in the cloud at your convenience
Intelligent Limits
We allow you to customize the number of messages, invites, views, follows and more per day. We even let you remove pending invites automatically.
Deep Segmentation
Create lists of people who interacted with any LinkedIn post
Pricing Plans:
Accelerate your growth with targeted, personalized, and authentic outreach campaigns.
Solo -- For 1 LinkedIn profile - $199/month.
Small Team/ Agency --3 LinkedIn profiles included - $499/month.
Large Team -- 10 LinkedIn profiles included - $1299/month.
Done-For-You -- Gold-standard CASTANET experience, done for you A-to-Z by one of our marketing experts --$1499/month.