Adzooma is an all-in-one platform that allows you to track, analyse, optimise and increase the profitability of your digital marketing campaigns. No need to log into multiple platforms to view your vital analytical data.
You get insights that you can act on in real-time and the tiresome task of consolidating the data is done for you. It's never been more simple to optimise your digital marketing efforts and increase your ROI.
Packed with all the tools you need to make paid advertising faster and more effective, the Adzooma platform analyses connected accounts 24/7 for opportunities to improve performance, over 50 of which can be applied to user accounts with a single click.
Time-consuming manual tasks can be fully automated, reports are automatically generated and sent to colleagues and clients with the click of a button, while you can also manage your Google, Facebook and Microsoft ads all from one screen.
Adzooma is full of time-saving and profit-boosting features giving users more time to work on the overall strategy without getting tied up in menial tasks.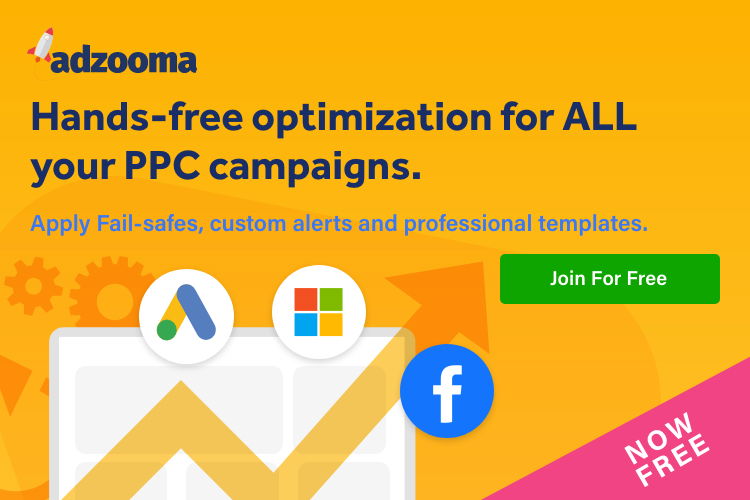 Why Adzooma?
Secure : Our T&C mean your data is always secure
Up-to-Date: New features and advancements are continually added
Reputable: We are Google, Facebook and Microsoft partners
It's a Free: Our award winning software won't cost you a penny
Adaptable: We use machine learning to deliver a better experience.
Experts: Our skilled team are ready to answer your questions.
Features:
Opportunities: AI-driven suggestions to optimize your campaigns
Reporting: Clear, insightful reports that make your life easier
Management: Effectively manage multiple accounts from one screen
Automation: Rule-based automation that saves your time.