Prepare for the PMP® and CAPM® exams online
The courses are designed in an animated way to make learning fun. There are stories that have been used to share knowledge and lesson which makes easier to absorb informations. There are many practice questions and quizzes to get everything covered.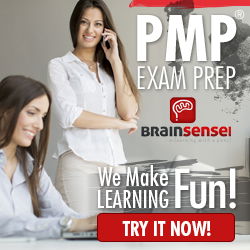 The courses are built on best-class e-learning platform which makes easier to learn through your tablet or phone with internet connection. The PMP (Project Management Professional) certification exam prep will help clear your PMP (Project Management Professional) exam and qualifies you for 3 contact hours needed to write the exam.
Benefits:
Better Opportunities
Higher Salaries.
Career Advancement.
More Stability.
Total Convenience.
Work at your Own Pace.
Learn more...
The courses are designed in the following way to make learning easier and fun.
Easy to Navigate and are clear and legible.
Interactive Content & Downloadable Templates.
Has a Personal Instructor to make learning easier.
Self-assessments and quizzes to refresh and upgrade yourself.
Practice Exams to get ready for the PMP exam.
All courses are with animated stories to make learning fun and understand fully.
With a free trial, you can learn the fundamental of project management. The course is based on the PMBOK® Guide 6th Edition.
Learn more...
PMP:
You can complete PMP® Exam Prep Course with 8 Modules and 4 full practice exams at a single low price. By enrolling, you will have access to
Eight Learning Modules.
Our exciting story-line challenges.
Summary of key knowledge points for each process group.
Multiple self-assessments in each module.
Four practice exams with over 900 practice questions.
Learn more...
You can complete the CAPM® Exam Prep Course which earns 23 hours of project management education that is necessary to take the exam. You will have access to
9 interactive learning modules
4 full practice exams with 600 realistic practice questions
Multiple quizzes in each module
Our exciting feudal Japan samurai story and challenges.
100% money-back/pass guarantee.*
Learn more...