Choose your PDU passport options from below
PDU Passport Annual.
PDU Passport 6 Months.
Talent Triangle Bundle.
Classes:
Courses included in PDU Passport
Introduction to Project Management Fundamentals
Best Practices in Project Management, 2nd Edition
Collecting Customer Requirements
Communicating with Senior Management
Communications Excellence: Driving Project Success
Complete Your Talent Triangle With Velociteach
Controlling the Project
Preparing Project and Program Leaders for Organizations of the Future: Foundations
Developing and Applying Effective Work Breakdown Structures
Fundamentals of Earned Value Management
Fundamentals of Schedule Network Diagramming
Overview of Lean Business Analysis
Lessons from Top PMs
Mastering Scope & Requirements Management
Achieving The Elusive Work-Life Balance
Six Things to Remember When Your Client Changes Direction
7 Steps to Successful Conflict Management
17 Top Reasons Why Projects Fail and What You Can Do to Avoid Failure
25 Actions to Build Your Self-Confidence
Are You Too Soft?
Behaviors That Lead To Exceptional Performance
Behaviors to Master When Dealing With Your Leaders
Build a Better Team: 54 Real-Life Scenarios
Dealing With Difficult People: 25 Tips to Stay in Control
Effective Mentoring: Top 40 Q&As for a Successful Experience
Effective Time Management to Getting More Done Every Day
Escalate Is Not a Dirty Word
Self-Assessing & Improving Your Performance Maturity
Surveying Client Satisfaction: Gauging Project Success
Top 10 Mistakes In Conducting Lessons Learned
What Makes a Team Member Valuable?
Project Planning - Communications and Stakeholder Management
Project Planning - Quality Management
Project Planning - Risk Management
Project Planning - Schedule Management
Project Planning - Scope Management
Project Stories: LakePoint
Project Stories: MRAP Vehicles
Risk Management Fundamentals
Applied Risk Management
Stakeholder Analysis
The Strategy of Project Selection
Project Productivity Killers
From a Good Project Manager to a Great Leader
CRAVE Your Goals! Motivate Your Team and Get Things Done
Essential Tips for Effective Negotiation Skills
How to Lead Successful Change Management
The Introverted Leader: Leading a Team in Today's Extroverted Workplace
Crash Course in Agile Scrum
Fundamentals of Agile
How to Know When Agile Isn't the Right Tool for the Job
Drive Innovation with Disruptive Thinking
Leading with Ethical Intelligence: Five Principles for Making the Right Decisions Every Time
Risk Management: Practical Application and Tools
Communications Planning and Management
Effective Project and Program Status Reporting
Hire the Best: Strategies, Tools and Tips for Hiring Top Talent
Attracting Top Talent: First Contact
Managing Millennials & Gen Z: Demystifying and Engaging Modern Talent
PMP® Exam Prep Resources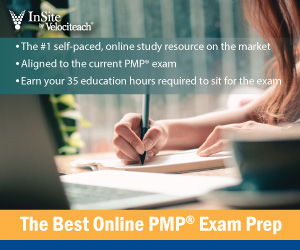 Included,
Up to 35 contact hours of PM education (required to apply for the exam)
Pre-developed, always up-to-date slide presentations
Complete Instructors Guide with an example course schedule, instructor notes and summary discussion questions
The best-selling book The PMP® Exam: How to Pass on Your First Try, Sixth Ed. by Velociteach CEO, Andy Crowe
6-page laminated Quick Reference Guide
250+ Flashcards on an easy to use mobile app
8 hours of Conversations on the PMP Exam through downloadable audio tracks
Student Course Workbook containing all the presentation slides and plenty of white space for note taking
Access to InSite, Velociteach's exclusive online e-learning program containing audio/visual lessons, downloadable exercises, and testing labs with over 800 additional practice questions
Instructor access to OverSite, an online e-learning tool that allows you to create a virtual class, assign homework, track the students' progress and monitor their scores
Ongoing support by Velociteach's staff.
PMI-ACP® Exam Prep Resources
Included,
21 hours of education in Agile practices (required to apply for the exam)
Pre-developed, always up-to-date slide presentations
Complete Instructors Guide with an example course schedule, instructor notes and summary discussion questions
Textbook The PMI-ACP® Exam: How to Pass on Your First Try by Velociteach CEO Andy Crowe, covering exam content and test-taking strategies, with two simulated exams included
3 months of access to additional practice questions through InSite, Velociteach's exclusive online e-learning program
Student Course workbook containing all the presentation slides and plenty of whitespace for note taking
Ongoing support by Velociteach's staff
Project Management Fundamentals Resources
Included,
21 hours of PM education hours or professional development units
Pre-developed, always up-to-date slide presentations
Complete Instructors Guide with an example course schedule, instructor notes and summary discussion questions
The text Alpha Project Managers: What the Top 2% Know That Everyone Else Does Not by Andy Crowe used for assigned readings
3 months of access to InSite, Velociteach's exclusive online e-learning program, covering Lessons from top PMs
Student Course workbook containing all the presentation slides and structured journaling
Multiple class templates used to support concepts and methods in real world scenarios
Ongoing support by Velociteach's staff
Earned Value Management Resources
Included,
16 hours of technical training on EVM which can be submitted for PDUs
Pre-developed, always up-to-date slide presentations with speakers notes for every slide
Complete Instructors Guide with an example course schedule, instructor notes and explanations behind each student exercise
Student Course workbook containing all the presentation slides and plenty of whitespace for note taking
10 Exercises to help students' apply the skills in everyday project scenarios
EVM Formula Map to assist students in structuring math correctly to answer project performance questions
Certificate of Completion template so you can award contact hours or PDUs to your students
Ongoing support by Velociteach's amazing staff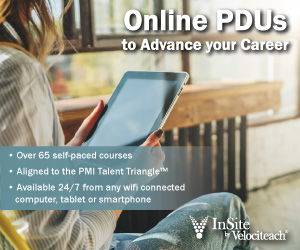 Learning Objectives:
Master the Performance Management Baseline
Learn to apply the Integrated Baseline Review to track and report on EV
Apply earned value elements and processes
Perform the calculations associated with earned value reporting
Learn the vocabulary of earned value and translate it into practice