Looking to upgrade your skill at your convenience?
Looking to enroll in e-degrees or short courses?
Then choose the best that you think would be a right fit for you. Most of the courses with offers upto 50%
E-degrees in Cybersecurity, Fullstack JavaScript Developers, IoT, Advanced Artificial Intelligence and Machine Learning, Cloud Computing, Mighty Phython Bundle, and DevOps.
Live online training in DevOps Pipeline in AWS
Mighty deals in Machine Learning bundle, Cybersecurity bundle, Web Development bundle, Digital Marketing bundle, Python bundle, Software Development bundle, DevOps bundle.
Course categories:
AI and Machine Learning.
Web Development.
Mobile Development.
System Programming.
Software Engineering.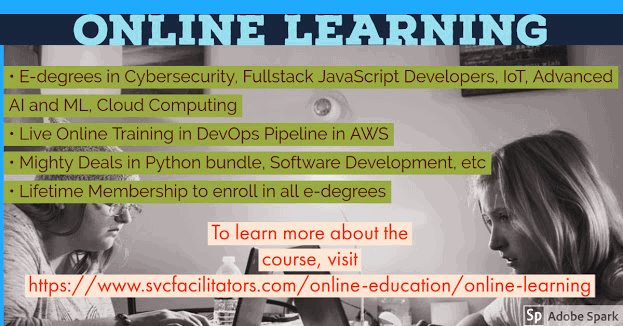 Digital Marketing.
Game Development.
Programming Language.
Data Analysis and Data Science.
Enroll in lifetme membership without any limit to enroll in all e-degrees, courses, e-books, etc.
https://www.svcfacilitators.com/online-education/online-learning
#cybersecurity #iot #javascript #artificialintelligence #machinelearning #devops #aws #digitalmarketing #softwaredevelopment #python #programming